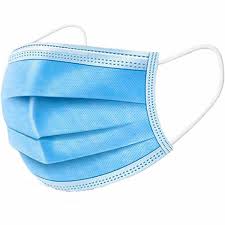 MAY 1, 2021
Think about it, how many people you know that since this wicked man made virus has been out, they have been doing EVERYTHING that the wicked media, CDC and WHO has told them to do BUT yet still caught Covid?.In my quiet time with Yah and even randomly, "It's in the masks' kept dropping in my Spirit. Then it really stirred up in my Spirit when a couple weeks ago I was having a conversation with my mom and the downloads started. How do you think they could get the numbers up so QUICKLY? These people are wicked! Shadow-banned Experts say the virus is on the cotton swabs for some of the same tests you do. And let's not even start with the technique they use to examine the tests to give you positive or negative thus where the false positives originate.
I constantly saw the BLUE surgical masks that are VERY POPULAR. I myself have NEVER worn one since this PLANDEMIC, the Holy Spirit was just not giving me the urge to buy it. Like, my Spirit would get vexed just the thought of those masks and now not being allowed to BREATH FRESH AIR. A standard human right!
When the Plandemic started I literally found myself sewing cloth masks and guess what… I never used a sewing machine in my life! I went to the store, bought a sewing machine, material, watched like 2 YouTube videos and that was it. I shocked myself and my Family. I STRONGLY believe Yah granted me that ability supernaturally… People, GOD IS REAL!
So this is my warning ⚠️ STAY AWAY FROM THOSE BLUE MASKS! (Those are the ones I saw in the Spirit) If you see how most of them are made Saints you would gag, and MOST persons just buy them at the corner store and put them on immediately. WEAR ANYTHING ELSE SAINTS, TAKE HEED. I will do a YT video and a part 2 to this blog. This one is just to tell you what I've been hearing in my spirit from Yah. next one, we look into some NUMBERS regarding this matter. Bless you all and your loved ones. Shalom!